The ClimaRad Sensa H2X is the horizontal Sensa unit from our range and is an independently functioning ventilation unit that removes polluted air and supplies clean air. Intelligent sensors measure air quality and automatically determine the required ventilation. Just like the Sensa V2X (vertical version), the device is equipped with a design housing and is well applicable in combination with underfloor heating or other heat dissipation systems.
Assembly and installation of this unit can be realised within ten minutes (excl. wall transit and power outlet).
Benefits ClimaRad Sensa H2X
Minimum parapet height is 550 mm*
Quick assembly and installation within 15 minutes
Application with underfloor heating or other heat dissipating systems
Energy efficient due to heat recovery, CO₂ and RV control
100% resident-independent
* For lower parapet options, please contact ClimaRad.
The ClimaRad Sensa H2X is part of the ClimaRad Smart Solution and ClimaRad Comfort Solution, where the unit controls the ventilation per room. Because the device is placed against the outer wall, air is supplied and exhausted directly through the façade. This gives the building 'breathable facades' and the need for ventilation ducts through the building is eliminated. To prevent unacceptable drafts, preheating the incoming clean air is the solution. Thanks to the built-in heat exchanger that reuses the heat from the exhaust air, ventilation takes place in a very energy-efficient way (up to 90% efficiency) while no draft complaints arise.
Working principle ClimaRad Sensa H2X
The ClimaRad Sensa H2X uses heat recovery to save as much energy as possible. This unit ensures the removal of polluted air and the supply of fresh outside air. The heat from the polluted air is transferred to the clean air so that it is always pleasantly preheated. Intelligent sensors measure air quality and automatically determine the amount of ventilation required. Preheating by means of heat recovery is not only comfortable, but also means considerable savings on energy costs.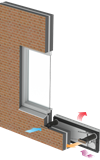 Functions ClimaRad Sensa H2X
Regulate indoor air quality
Filtering outside air
Decentralised ventilation
Summer night ventilation
Heat recovery