Available on request
The new ClimaRad Vita H1C ventilation unit with convector for active heating and cooling is specially designed for low temperature heating systems in residential buildings. This unit can be used with extra-low parapets and has a built-in heat exchanger and various sensors to measure the air quality. At the front of the ventilation unit, a convector is placed including additional fans (four fan cassette).
The ClimaRad Vita H1C provides ventilation, heating and cooling per room and is installed against an external wall for direct supply and extraction of air. The ClimaRad Vita H1C can be linked to the thermostat in the room.
For a device that is centrally controlled on the water side, take a look at our other Vita unit: the ClimaRad Vita H1C-S
Benefits ClimaRad Vita H1C
Applicable with low parapets: minimum parapet height: 520 mm
CO2- and RH control
Heat exchanger efficiency up to 90%
Automatically closing valves that guarantee draught-free ventilation (also in high-rise buildings)
Optional integrated communication module for integration in the Building Management System
Functionality ClimaRad Vita H1C
The ClimaRad Vita H1C provides a healthy and comfortable indoor climate by ventilating and heating each room. The unit is centrally controlled on the water side.
Ventilation takes place directly through the wall, supplying clean outside air and removing dirty air.  The unit is fitted with a heat exchanger that pre-heats the incoming 'clean air' by using the heat from the 'dirty air' being removed. This ensures high comfort levels and significant energy savings. Sensors for CO2, humidity, indoor and outdoor temperature automatically determine the correct ventilation rate required to create an optimum indoor climate.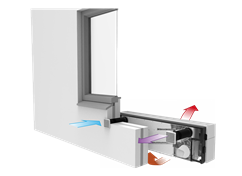 Functions ClimaRad Vita H1C-S
Regulate indoor air quality
Filtering outside air
Heating
Decentralised ventilation
Summer night ventilation
Heat recovery
Cooling