This product is no longer available. ClimaRad communication module for external system is still available.
The living environment in a building can be dramatically improved by using a substantial number of ClimaRad units. However, when numbers increase, management and control of the system will be less straightforward and can take up more time. To solve this problem, ClimaRad MultiControl has been developed.
Benefits ClimaRad MultiControl
A better overview for larger numbers of ClimaRad units 
Realtime communication and monitoring between the ClimaRad Controller and ClimaRad units
Easy operation via a touch screen
Enables time-controlled day/night colling
Can be linked with the existing Building Management Systems
A ClimaRad Controller communicates continuously with all Master ClimaRad units in the building. The status, fan-speed, CO2 value, indoor and outdoor temperatures, air humidity and any faults of each Master ClimaRad unit are continuously transmitted to the Controller.
The status of each Master ClimaRad unit is very clearly displayed on a map. A malfunction of a ClimaRad unit will be immediately visible on the ClimaRad Controller. By clicking on the ClimaRad unit concerned, more information about the fault will be displayed.
The ClimaRad Controller also allows each ClimaRad unit to be controlled remotely. In addition, it is possible to use the ClimaRad Controller to set a time at which the ClimaRad units automatically switch to night cooling.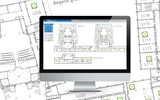 Functions ClimaRad MultiControl
Regulate indoor air quality
Summer night ventilation