Extent 58 apartments
Client Woningcorporatie Bo-Ex
Consultancy firm BOS Installatiewerken
Installer BOS Installatiewerken
Date of completion Q4 2020
European first: Utrecht high-rise apartment building becomes energy efficient with 'Inside Out' renovation system.
At Henriëttedreef in Utrecht Overvecht, a high-rise apartment building is being renovated on behalf of housing corporation Bo-Ex. Together with the consortium partners of the 'Inside Out' concept, they are applying a modular renovation system in which, after renovation, the apartment will actually generate more energy than its occupants consume. Among other things, this results in lower housing costs for tenants. ClimaRad is closely involved in this project as a partner/supplier through the application of its decentralised climate solution: ventilation and low temperature heating (LTV) system combined with a heat pump.
Renovation system of the future
High-rise apartment buildings such as Henriëttedreef are a challenge in the energy transition because they have many homes under one roof and limited space to generate energy. The Inside Out renovation system incorporates smart multifunctional exterior walls, which sustainably heat and ventilate homes, with renewable energy generation. After implementing the system, the apartment generates its own energy for power, hot water, ventilation and space heating. The energy that remains can be used to charge electric vehicles. With the Inside Out Consortium's modular renovation system, tens of thousands of similar 1960s and 1970s high-rise apartment buildings in the Netherlands can be made more sustainable and free of natural gas/district heating.
Successfully tested in pilot home
After development and testing, a pilot home was completed in 2018. The pilot home is a top-floor apartment that has been renovated in occupied condition and has now been tested for a year. Result: a better indoor climate, improved air quality and lower energy costs. With the results of this pilot home, the best solution was designed and installed in the entire apartment building.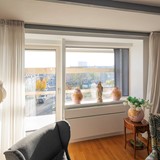 Comfortable living
Bo-Ex ensures that residents have lower housing costs and experience as little renovation inconvenience as possible. The modular parts are prefabricated. This ensures that construction work on site does not take long and residents do not have to temporarily leave their homes. All power supply equipment will be in the exterior walls or outside the house. Hence the name 'Inside Out'. These building components are very well suited to local prefabrication by people with poor job prospects. This way, Inside Out strengthens the local economy.
The Inside Out Consortium
The project is carried out by Bos Installatiewerken with its chain partner Alkondor Hengelo on behalf of Bo-Ex. In addition to these project partners, the modular Inside Out renovation system was co-developed by Mex Architects, LomboXnet, Hogeschool Utrecht, Utrecht University and Bosch Thermotechniek, under the direction of the Utrecht Sustainability Institute. The project was carried out with the support of a Top Sector Energy Grant from the Ministry of Economic Affairs and Climate.